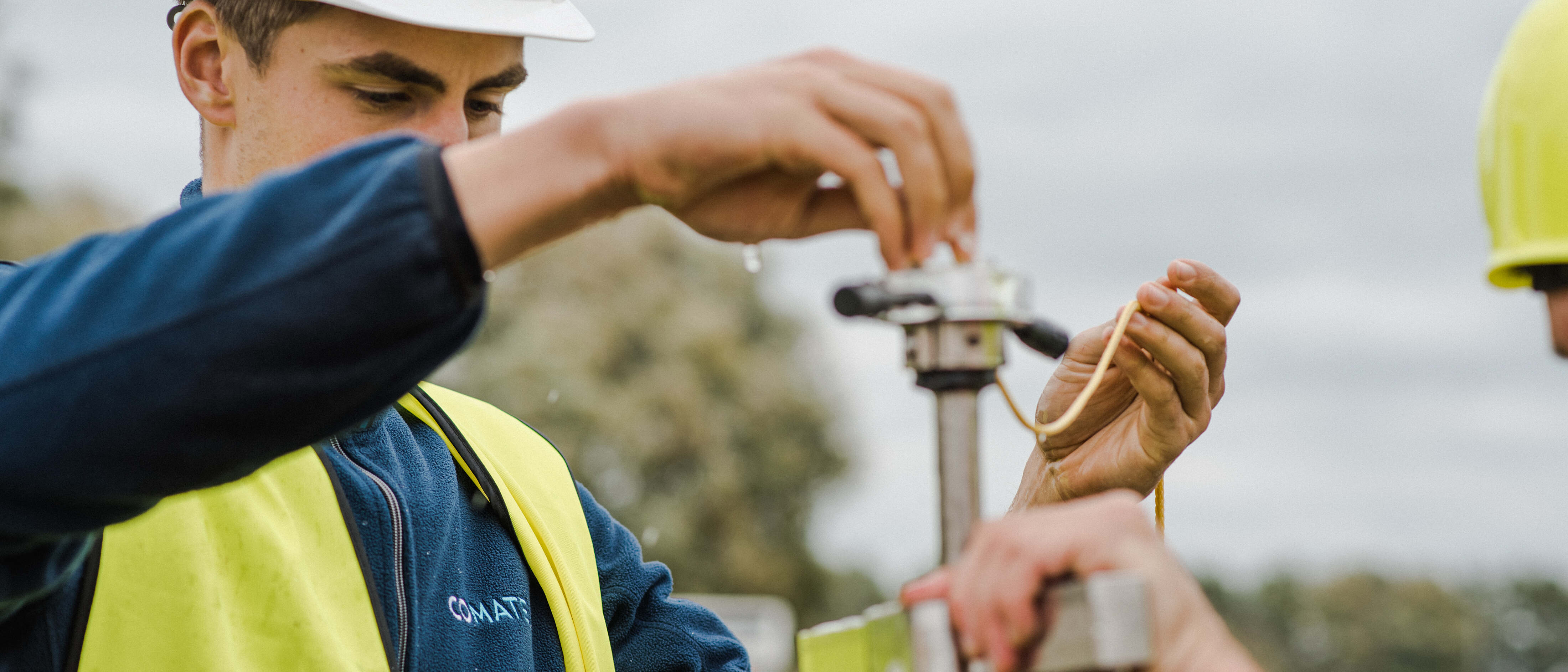 Revolutionizing pipeline monitoring: Comate & Vigotec break through traditional leak detection technologies
In a nutshell
During this collaboration, Comate joined forces with Vigotec to address a critical challenge in the (drinking)water distribution sector. The mission was simple, yet bold: design a hardware solution that enables the seamless installation of a glassfiber sensor cable within operational pipelines, revolutionizing the way leaks and intrusions are detected. Our team of engineers and designers - in our Ghent office - used its expertise to create an innovative installation process, hardware tool and pipeline fittings that could prove to be the new standard in pipeline monitoring for every water utility worldwide.
The Challenge
Vigotec, specialist in piping and leak detection solutions, approached Comate with a daunting question: Could they engineer an installation process and the necessary tooling to insert and extract a glassfiber sensor cable through a running water pipeline? The challenge was multifaceted, requiring a comprehensive understanding of material safety in a drinking water environment, intricate international pipeline dynamics and specifications, and the complex interplay between design and functionality.
The development process
We started with an intensive research and development journey. Leveraging insights from Vigotec's pipe systems expertise, existing technologies and brainstorming sessions, the team carefully narrowed down potential solutions. To conduct these tests, we set up a test environment using transparent pipes, providing us with a clear visual of the processes within the pipeline. Through a series of iterations, a breakthrough emerged in the form of the "parachute concept".
In this concept, we devised a system where a parachute is attached to the cable. This parachute is then inserted into the pipeline, deploys, and is propelled along with the flow inside the operating pipeline. Once the parachute reaches its designated endpoint, we successfully extract it from the pipeline, bringing our innovative solution to life.
The innovation
This innovation, co-developed by Comate and Vigotec, shattered existing limitations. While the concept of using glassfiber for leak detection was not new, the conventional approach involved manually applying the cable externally, a tedious process often impractical for long, underground pipelines. This new solution, however, enabled the automated installation of a glassfiber cable within operational pipelines spanning kilometers, all while the water continued to flow under pressure. The system's materials were carefully selected to ensure safety in drinking water environments, and robust safeguards were integrated to mitigate potential risks. However simple the concept might seem, the final design incorporates a large number of small, but critical elements to support an easy and reliable long-term installation process.
Outcomes
The project finds its application in the (drinking)water distribution, telecom and production industry sector, where it has the potential to have a real impact. Through this innovation, water and industrial companies are empowered to achieve continuous monitoring of their critical assets, specifically pipelines. The primary purpose is to detect leaks or intrusions in the early stages, offering a range of benefits for the water distribution process, such as:
Early Leak Detection: Traditional methods might miss certain leaks, but with this innovation, water companies can spot leaks promptly. This early detection is crucial in preventing water loss and minimizing environmental impact.
Reduced Water Spillage: Swift leak detection enables rapid response, minimizing the amount of drinking water wasted due to undetected leaks, ultimately contributing to water conservation.
Asset Protection: Identifying and locating leaks early prevents extensive damage to pipelines and surrounding infrastructure. This preventive approach cuts down on maintenance costs and postpones major repair works.
Mitigation of Intrusions: The technology aids in detecting external interferences, such as excavations near pipelines, thus safeguarding the integrity of the distribution system.
Additional advantage
Moreover, this innovation offers an additional benefit by enabling the installation of a glassfiber backbone for basic data communication within existing pipelines. The solution, and specifically it's 'Fiber in Water datacommunication' application, is also drawing a lot of international interest as a strong alternative to traditional 'trenching' of fiber networks. Connecting rural areas to the fiber network is currently economically unviable with traditional methods, due to the large distances that need to be covered. This innovation does not need any trenching but is able to use existing pipelines underground, thus can get the job done much more cost effectively.
Leading the industry
Comate's engineering has positioned Vigotec as pioneer in pipeline monitoring technology. The innovative installation tooling, combined with modern materials and advanced engineering, has propelled this development to the forefront of the sector. This achievement underscores Comate's commitment to driving transformative solutions that empower clients to outperform competitors and revolutionize their industries.
Project positioning
This project is part of DALI, a revolutionary pipeline monitoring system that helps reduce losses from Non-Revenue Water, waste and incidents. This system can locate leaks and intrusions in real time across large distances in liquids, gas and steam pipelines for utilities and industry.
DALI was developed as a partnership of Vigotec and their partner Fluves, combining their expertise in pipeline systems and fiber optic sensing. Vigotec is a supplier of fittings and tools for piping systems. Its partner Fluves, provides predictive maintenance systems for critical equipment, pipelines, water & energy infrastructure.
For further updates on DALI, Vigotec's and Fluves, stay tuned to their official channels: