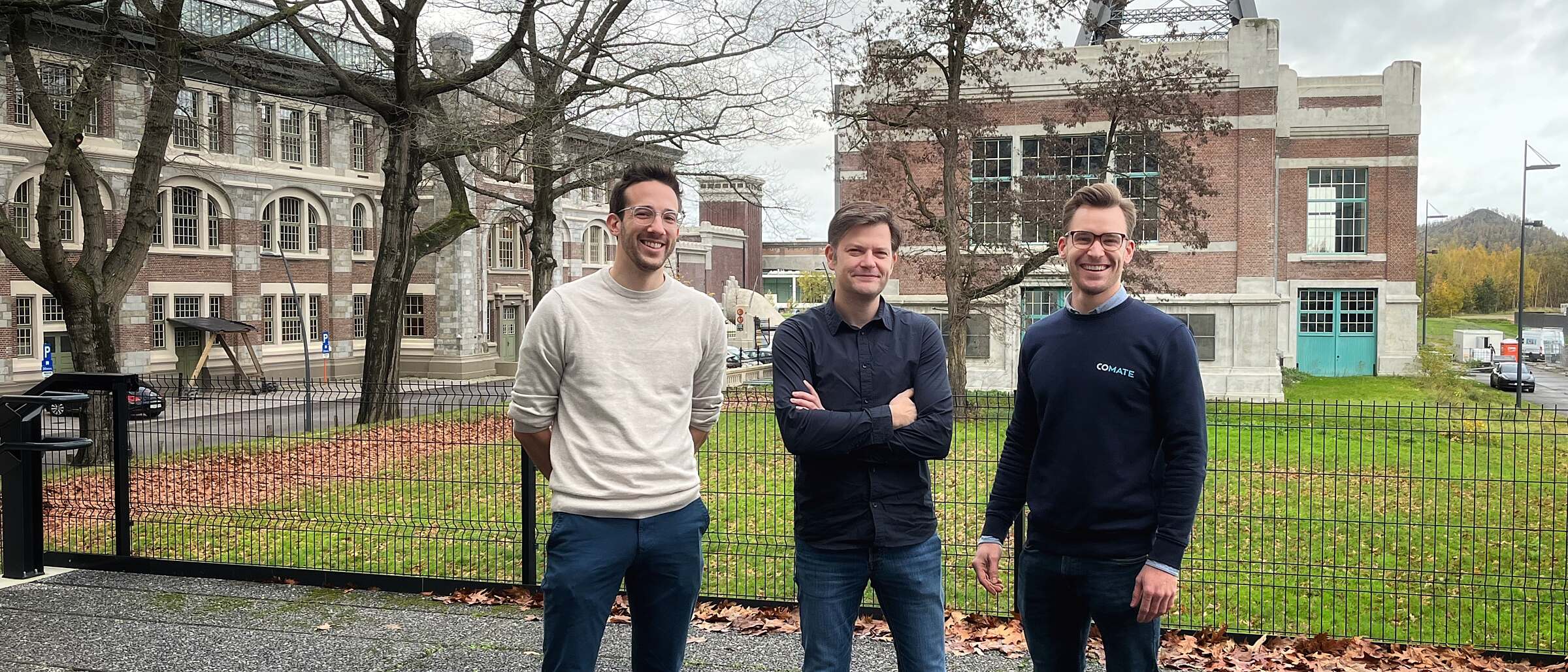 From collaboration to creation: this is how Thor Park facilitates innovation
9 January 2023
[NL versie onderaan]
One plus one makes three – but only on the condition that a collaboration runs smoothly. With that in mind, Genk-based business, technology and science park Thor Park has established itself as the ideal breeding ground for innovation. That sharing knowledge, expertise and facilities works is proven by start-up Innervate, engineering and design firm Comate and engineering company Absolem.

At Thor Park, these companies looked at the potential of the stretchable electronics of start-up Innervate. This collaboration is a great example of how Thor Park's ecosystem works - and how the future hub FacThory can become an incubator for the creation and valorization of new hardware concepts.

Thor Park: the smart starting point
Thor Park is a business, technology and science park located on the former Waterschei mining site in Genk. It is a hub of innovation where research institutions, start-ups and emerging companies as well as world players in the energy sector, smart manufacturing industry and smart cities come together to transform their ideas into reality.
Thor Park's mission? To support the development and valorization of new products by giving a variety of players access to the knowledge, infrastructure and network they require. The focus here is creating a unique and specialized ecosystem, in which organizations - each in their own way - dedicate their expertise to bridge the gap from an idea to a successful product.
To make this process run as efficiently as possible, all areas of expertise are grouped and divided across several locations within Thor Park. At this moment, EnergyVille, T2 campus, IncubaThor and Thor Central are already available. These locations will soon be joined by FacThory: a space where new ecosystems of smart manufacturing companies can be established.
FacThory's added value lies in the additional services it will provide, such as an industry 4.0 project manager and various pilot and contract manufacturing services. The central focus will be on specialized advice and targeted investments to keep the CAPEX as low as possible. The completion of FacThory (see sidebar) is expected by the end of 2023.
Innervate: the promising start-up
The Limburg-based start-up Innervate aims to be an engineering partner for robot manufacturers who want to incorporate electronics into moving parts. Founder Steven Nagels completed his doctorate at the Institute for Materials Research IMO-IMOMEC (UHasselt/imec). There, he worked on electronics that are made with liquid metals that stretch like an elastic. Nagels envisions a future in which electronics are as closely intertwined with the moving parts of a robot as nerves are with the muscles and joints of the human body.

Founder Steven Nagels elaborates, "Our stretchable circuits are very interesting in applications where there is a need for both electronic (sensor) functionality as well as a high degree of agility. Initially, we want to explore that combination in markets like robotics and automation. We start with simple applications, and from there we develop our expertise further until we can contribute to exoskeletons or even the next generation of active prostheses. At every step - from concept to integration - we are actively thinking along."

The first contact with Thor Park came after a search for a location to establish Innervate, develop its prototype and eventually start up production. Thor Park quickly emerged as the ideal breeding ground for start-ups like Innervate. Both the already present ecosystem with companies like Comate, Absolem, Yitch, Cobotracks and Merino Consulting Services and the planned addition of FacThory proved to be real assets.
"The practical setting and shared devices are an excellent starting point," Nagels says. "But for us, the real added value of Thor Park is the ecosystem of like-minded entrepreneurs that solve similar and manufacturing industry-specific issues. The questions we ask ourselves are unlike those of the average IT start-up." In addition, the project manager 4.0 present is the ideal sparring partner that gives vital advice on setting up an efficient production environment.
"In start-up companies - and also in more mature companies - product knowledge is often already at hand," says Erwin Junius, Project Manager Industry 4.0 at Thor Park. "But the specific knowledge about the processes and requirements in a production environment is not there yet. That still needs to be established, despite the fact that this is an important aspect that should actually be included in the development from the first design."
An exercise that is often started with is value stream mapping. "We analyze the sub-processes and actively look at how we can improve them," continues Junius. "Then follows a risk assessment, in which we look at possible variants of the product and examine the impact of these products and processes in terms of environment and safety. As to be expected, this happens under a strict non-disclosure agreement."
During these exercises, it became increasingly clear that Innervate would benefit from involving other companies from the Thor Park ecosystem in their process. Two partners were found: Comate - an ideal ally in product design and development - and Absolem, who excel in process knowledge. By consulting with both parties, Innervate gained insight into the challenges of a manufacturing environment and was able to adjust the positioning.
"Thor Park's role is, on the one hand, to meet with companies and understand their challenges and, on the other hand, to link the strengths and capabilities of different players," explains Gabriële Buglione, Business Development Manager at Thor Park. "At first glance, there's no direct benefit for us in that area. But of course, we're only successful if our ecosystem is. As a result, we benefit indirectly from these collaborations."
Comate: the partner in developing a market-ready product
As an engineering partner, Leuven-based engineering and design firm Comate supports a variety of companies - from start-ups to multinationals - in the development of innovative hardware products. With a team of 80 engineers and product developers, they bring insight into the market and the end users. Using prototypes, Comate translates requirements and specifications into technological solutions. These are finished with a tailored design and transformed into market-ready products. In the final step, Comate assists in setting up the production and supply chain.
Managing Director Sander Van den dries explains the match with Thor Park: "Thor Park is a place where a lot happens in terms of research, development and - in the future - manufacturing. These themes are strongly linked to the daily operations of Comate. With the development of FacThory on the horizon, we are also present in IncubaThor, the professional workspace for start-ups. This allows us to monitor and support the entire ecosystem from up close."

That's how Comate came into contact with Innervate. What started as an introductory meeting, quickly resulted in a thorough review of the steps the start-up would need to take and advice on the budgets and timelines that come with them. The match between hardware entrepreneur Steven's questions and ambitions and Comate's expertise quickly became clear.
"It is these initial non-committal conversations - brought about by our presence in an ecosystem like Thor Park - that often result in interesting collaborations," says Business Developer Alexander Blockhuys. "When independent parties see a need at one company and a solution at another, there is potential for a valuable contact. Even if there's no direct business that follows."
In recent years, Comate has supported many university projects and spin-offs. As a result, they could move on to market-ready products and machines after years of research and prototypes within the university environment. An example is Diepenbeek-based FOx Biosystems: a spin-off of KU Leuven that, with the help of capital support from LRM and others, has been exploring the possibilities of automated blood testing. Another KU Leuven spin-off that Comate currently works with is Solhyd, a company that aims to develop an innovative hydrogen panel.
Comprehensive network support
Besides technical support, Thor Park looks at which partners from the broader network can add value. These may be financial partners - such as LRM and Industrya - or public partners - such as POM Limburg and the city of Genk – or partners of Limburg Startup - such as SD Worx, Gevers, Van Havermaet, KBC Start-it and VOKA.
We like to present ourselves as a kind of Google for entrepreneurs," explains Gabriële Buglione of Thor Park. "They can come to us with virtually any question. We happily connect them with one of our partners, who in turn provide clear answers to the entrepreneur's questions. For Innervate, we involved LRM. Together, they checked if they could participate in a possible capital round. On top of that, we are in direct contact with VLAIO and help companies prepare their ISS, the support for innovative starters."
This is how Innervate managed to be selected as one of 69 innovative start-ups in VLAIO's second call for support for innovative starters. A total of eight Limburg-based start-ups were supported.
Comate also helps start-ups in their search for funding. Last year, the investment fund Comate Ventures was founded: a joint venture between Comate and Alychlo, Marc Coucke's family investment holding. Comate Ventures provides pre-seed funding for start-ups that develop innovative hardware products.
Founder Wouter Foulon explains: "At Comate, we have experience with hardware development. From our expertise, we know that this can be a difficult, risky and expensive process. With Comate Ventures, we want to be a launching path for start-ups that develop hardware. That way they can work towards developing the right end product as efficiently as possible."
Absolem: the tandem of measuring and knowing
Engineering company Absolem combines expertise, knowledge and technology to tackle various challenges. Their expertise and knowledge are vested in more than sixty engineers from different fields, the technology is centralized in a custom engineering center that includes a laser lab in Turnhout. At Absolem, 'from A to Z' sounds like 'from C to P': from concept to production, they offer a wide range of services and solutions.
"Innervate's challenge is one that we recognize from many of our customers. They have designed a demonstrator, prototype or a certain production process based on a concept. This is something they want to optimize further before it goes into actual production," says Jurgen Adriaensen, Process Architect at Absolem.
"Our strength lies in the fact that we have a lot of experience with process thinking. We combine this with our expertise in mechanical engineering and industrial digitalization. With the capabilities of our engineering center and the measurement equipment of lighting manufacturer Signify, who are also based on-site, we move a lot faster than other companies."

Absolem's measuring equipment quickly exposes potential pain points and bottlenecks. Based on that input, the engineering center devises solutions, alternatives and improvements. In a subsequent step, these can be tested in the lab. By making and testing various designs, Absolem succeeds in arriving at an improved version efficiently and pragmatically. The customer's expectations are always discussed: when is something good enough?
"An additional advantage in that area is that we always think about how we can keep a production process as simple as possible," says Jurgen Adriaensen. "It can never be the intention that an operator needs days of training to complete a process. So we don't just look at the technology, but at the overall picture. If we can bring up elements in the concept or design phase that require an investment, but that save costs or provide more margin in the long run, we always include them. We don't just focus on technology: we always think along with our client's business."
Thor Park's ecosystem
Absolem was introduced to Innervate through Thor Park. "Bringing companies together creates a certain synergy," says Adriaensen. "You get to know each other and learn from one another. You create connections and take on challenges together. Or you simply knock on each other's door for help. With the growing need for smart manufacturing, a hub like Thor Park is indispensable. Knowing that all the expertise in the field is gathered in one central location helps manufacturing companies to take their first steps toward a very promising future."

FacThory
Three questions about FacThory: the next chapter
FacThory is a multi-purpose location that supports companies in the manufacturing industry. The building accommodates different manufacturing units, labs and test spaces and several offices where companies can rent spaces and use pilot and contract manufacturing services. This future addition to Thor Park will serve as a means to build an entire ecosystem around smart manufacturing.
FacThory will be good for about 30.000 m² of workable area and is built in four phases. Phase one will be completed in December 2023 and will consist of 3,500 square meters of production floor, 1,000 square meters of lab and testing space and 3,500 square meters of office space.

Who can benefit from FacThory?
FacThory is a place for small companies that do not have a permanent workplace yet or are on the lookout for a new location. But it is also a space for large companies - both national and international - to use as an external R&D site. This way they can work on new products or processes separately from their headquarters, without being distracted by day-to-day operational tasks.
How is FacThory structured?
FacThory's production floor is located on the ground floor. There, companies like Innervate can produce or assemble their finished products or improve their process by, for example, testing a pilot line.
The lab and test rooms are located on the first floor. These are intended, on the one hand, for companies offering support services in the manufacturing process, such as integrators, robotization and - in the case of Absolem - automation. On the other hand, companies can also work on a prototype by themselves or with a partner like Comate.
On the second floor, you can find office spaces for companies that work on the lower floors. Companies that are active in the manufacturing industry, but that do not have a physical product, can also use these spaces. These include organizations that develop XR applications or companies that are engaged in data capturing, visualization, analysis and artificial intelligence.

Why choose FacThory?
By - literally - bringing different types of companies together under one roof, they benefit from each other's knowledge and expertise and can improve globally. For example, Company A can develop XR technology in its offices and implement it using Company B's machines and process experts. In turn, Company B can be assisted by the knowledge and technology developed by Company A.
The knowledge and technology from the offices can be applied directly in practice. Thanks to the presence of a production floor, it becomes easier to test, analyze and optimize new developments.
Pilot and contract manufacturing
Thor Park's ecosystem is completed by an industry 4.0 project manager and the various machines that are on-site. The objective is and will continue to be keeping CAPEX investments for the ecosystem as low as possible by Thor Park investing itself. Investments will be made in non-conventional machines that trigger new production methods due to their innovative nature. Examples include a hybrid 3D printer with in-line X-ray inspection or technology that facilitates the concept of digital twins for product, process or a combination of both. 'Operator friendly' applications are also being considered, such as cobots to facilitate and integrate testing into the production process.
EFRO-project
FacThory is realized with the support of the European Regional Development Fund (ERDF - project 1383) and Flanders Innovation and Entrepreneurship (Hermes Fund). The financial support amounts to 5.2 MEUR and 1,0 MEUR respectively.
--- --- --- --- --- --- ---
[NL versie hieronder]
Samenwerken voor succes: zo faciliteert Thor Park innovatie
Eén plus één maakt drie – maar enkel op voorwaarde dat een samenwerking optimaal verloopt. Met die gedachte in het achterhoofd ontpopte het Genkse bedrijven-, technologie- en wetenschapspark Thor Park zich de afgelopen jaren tot de ideale voedingsbodem voor innovatie. Dat het delen van kennis, expertise en faciliteiten werkt, beamen start-up Innervate, engineering- en designbureau Comate en ingenieursbedrijf Absolem.
Samen bekeken deze bedrijven op Thor Park de mogelijkheden van de stretchable electronics van start-up Innervate. De samenwerking is een mooi voorbeeld van hoe het ecosysteem van Thor Park in elkaar zit – en hoe de toekomstige hub FacThory een broedplaats kan worden voor de creatie en valorisatie van nieuwe hardwareconcepten.

Thor Park: het slimme startpunt
Thor Park is een bedrijven-, technologie- en wetenschapspark gelegen op de voormalige mijnsite van Waterschei in Genk. Het is een hub van innovatie waar onderzoeksinstellingen, startende en groeiende bedrijven én wereldspelers in de energiesector, slimme maakindustrie en smart cities samenkomen om hun ideeën om te zetten naar de realiteit.
De missie van Thor Park? Ondersteuning bieden bij het ontwikkelen en valoriseren van nieuwe producten door verschillende spelers toegang te geven tot de kennis, de infrastructuur en het netwerk dat ze nodig hebben. De focus ligt daarbij op het creëren van een uniek en gespecialiseerd ecosysteem, waarin organisaties elk op hun eigen manier hun expertise inzetten om de brug te maken van idee naar succesvol product.
Om dat proces zo efficiënt mogelijk te laten verlopen, worden deze expertises geclusterd en verdeeld over verschillende locaties binnen Thor Park. Zo staan EnergyVille, T2-campus, IncubaThor en Thor Central op dit moment al ter beschikking. Binnenkort wordt FacThory toegevoegd: een locatie waar nieuwe ecosystemen van bedrijven uit de slimme maakindustrie gecreëerd kunnen worden.
De meerwaarde van FacThory ligt in de aanvullende diensten die aangeboden zullen worden, zoals een projectmanager industrie 4.0 en verschillende pilot-and-contract-manufacturing diensten. Daarbij zal de focus liggen op gespecialiseerd advies en gerichte investeringen om de CAPEX zo laag mogelijk te houden. De oplevering van FacThory (zie kader) wordt eind 2023 verwacht.
Innervate: de beloftevolle start-up
De Limburgse start-up Innervate wilt een engineeringpartner zijn voor robotfabrikanten die elektronica willen inwerken in bewegende delen. Oprichter Steven Nagels behaalde zijn doctoraat aan het Instituut voor Materiaalonderzoek IMO-IMOMEC (UHasselt/imec). Daar werkte hij aan elektronica op basis van vloeibare metalen die rekken als een elastiek. Nagels streeft naar een toekomst waarin elektronica even nauw verweven is met de bewegende delen van een robot als zenuwbanen dat zijn met de spieren en gewrichten van het menselijk lichaam.
Oprichter Steven Nagels licht toe: "Rekbare circuits zijn zeer interessant in toepassingen waar nood is aan zowel elektronische (sensor)functionaliteit als een hoge mate van beweeglijkheid. Die combinatie willen we, in eerste instantie, opzoeken in markten als robotica en automatisering. We starten met eenvoudige toepassingen, om van daaruit onze expertise verder te ontwikkelen tot we kunnen bijdragen aan exoskeletons of zelfs de volgende generatie actieve prothesen. Bij elke stap – van concept tot integratie – denken we actief mee."

Het eerste contact met Thor Park volgde na een zoektocht naar een locatie om Innervate te vestigen. Thor Park bleek al snel de ideale voedingsbodem voor start-ups als Innervate. Zowel het reeds aanwezige ecosysteem met bedrijven als Comate, Absolem, Yitch, Cobotracks en Merino Consulting Services als de geplande toevoeging van FacThory bleken een meerwaarde.
"De praktische omgeving en gemeenschappelijke toestellen zijn een ideale basis", vertelt Nagels. "Maar de toegevoegde waarde van Thor Park is voor ons vooral het ecosysteem van like-minded ondernemers die gelijkaardige en maakindustrie specifieke vraagstukken oplossen. De vragen die wij ons stellen, zijn niet te vergelijken met die van de gemiddelde IT-startup." Daarnaast is de aanwezige projectmanager 4.0 een ideale sparringpartner die adviezen formuleert die onmisbaar zijn bij het opzetten van een efficiënte productieomgeving.
"Bij startende bedrijven - en ook bij meer mature bedrijven - is productkennis vaak al voorhanden", vertelt Erwin Junius, Project Manager Industry 4.0 bij Thor Park. "Maar de specifieke kennis over de processen en vereisten in een productieomgeving is nog niet aanwezig. Die moet nog opgebouwd worden, terwijl dit een belangrijk aspect is dat eigenlijk al vanaf het eerste ontwerp meegenomen moet worden in de ontwikkeling."
Eén van de oefeningen waarmee gestart wordt, is value stream mapping. "Daarbij analyseren we de deelprocessen en bekijken we actief hoe we deze kunnen verbeteren", vervolgt Junius. "Daarna volgt een risk assessment, waarbij we mogelijke varianten van het product bekijken en nagaan wat de impact van deze producten en processen zijn op vlak van milieu en veiligheid. Dat gebeurt uiteraard onder een strikte non-disclosure agreement."
Tijdens deze oefeningen werd steeds duidelijker dat Innervate er baat bij heeft om andere bedrijven uit het Thor Park-ecosysteem te betrekken. Er werden twee partners gevonden: Comate - een ideale bondgenoot op vlak van product design en -ontwikkeling - en Absolem, die hun sterkte vinden in proceskennis. Door in gesprek te gaan met beide partijen kreeg Innervate inzicht in de uitdagingen van een maakomgeving en kon de positionering bijgesteld worden.
"De rol van Thor Park bestaat enerzijds uit met bedrijven spreken en hun uitdagingen begrijpen en anderzijds uit de sterktes en capaciteiten van verschillende spelers aan elkaar linken", legt Gabriële Buglione, Business Development Manager van Thor Park uit. "Voor ons is er op dat vlak op het eerste zicht geen rechtstreeks voordeel, maar uiteraard zijn wij pas succesvol als ons ecosysteem dat ook is. Daardoor zijn we onrechtstreeks gebaat bij deze samenwerkingen."
Comate: de partner in de ontwikkeling van een marktklaar product
Als engineeringpartner ondersteunt het Leuvens ingenieursbureau Comate verschillende bedrijven - van start-ups tot multinationals - in de ontwikkeling van innovatieve hardwareproducten. Met een team van 80 ingenieurs en productontwikkelaars kunnen ze inzicht brengen in de markt én de eindgebruikers. Aan de hand van prototypes maakt Comate de vertaling van vereisten en specificaties naar technologische oplossingen. Die worden met een passend design afgewerkt tot een marktklaar product. In de laatste stap biedt Comate hulp bij het opzetten van de productie en supply chain.
Zaakvoerder Sander Van den dries licht de match met Thor Park toe: "Thor Park is een plek waar enorm veel gebeurt op vlak van onderzoek, ontwikkeling en - in de toekomst - manufacturing. Die thema's zijn sterk gelinkt aan het dagelijkse reilen en zeilen van Comate. Met de ontwikkeling van FacThory in het vooruitzicht zijn wij ook aanwezig in IncubaThor, de professionele werkruimte voor start-ups. Zo kunnen we het volledige ecosysteem van nabij opvolgen én ondersteunen."

Op die manier kwam Comate in contact met Innervate. Wat startte als een kennismakingsgesprek, resulteerde in het doorlichten van de projectstappen die de start-up zou moeten nemen en advies over de bijhorende budgetten en tijdslijnen. De match tussen de vragen en ambities van ondernemer Steven en de expertise van Comate werd snel duidelijk.
"Het zijn deze eerste vrijblijvende gesprekken - die tot stand komen door onze aanwezigheid in een ecosysteem als Thor Park - die vaak resulteren in interessante samenwerkingen", vertelt Business Developer Alexander Blockhuys. "Wanneer onafhankelijke personen een nood zien bij het ene bedrijf en een oplossing bij het andere bedrijf, is er potentieel voor een waardevol contact. Ook als er daar geen directe business uit volgt."
De afgelopen jaren ondersteunde Comate al heel wat universitaire projecten en spin-offs. Zo konden die na jaren van onderzoek en ruwe prototypes binnen de universiteitsomgeving de stap zetten naar marktklare producten en machines. Een voorbeeld daarvan is het Diepenbeekse FOx Biosystems: een spin-off van KU Leuven die zich sinds 2019, met behulp van kapitaalsteun van onder andere LRM, verdiept in geautomatiseerd bloedonderzoek. Daarnaast werkt Comate op dit moment samen met Solhyd, een spin-off van KU Leuven die een innovatief waterstofpaneel in de markt wil zetten.
Brede ondersteuning vanuit het netwerk
Naast technische ondersteuning kijkt Thor Park ook naar welke partners uit het bredere netwerk een meerwaarde kunnen bieden. Dat kunnen financiële partners zijn - zoals LRM of Industrya - of publieke partners - zoals POM Limburg of Stad Genk - of partners van Limburg Startup - zoals SD Worx, Gevers, Van Havermaet, KBC Start-it en VOKA.

"We profileren ons graag als een soort Google voor de ondernemer", vertelt Gabriële Buglione van Thor Park. "Met eender welke vraag kunnen ze bij ons terecht. We brengen hen met veel plezier in contact met één van onze partners, die op hun beurt een duidelijk antwoord geven op de vragen van de ondernemer. Zo hebben we voor Innervate bijvoorbeeld LRM betrokken. Samen bekeken ze of zij konden deelnemen aan een mogelijke kapitaalronde. Daarnaast staan we in rechtstreeks contact met VLAIO en helpen we bedrijven bij het opstellen van hun ISS, de innovatie starterssteun." Zo is Innervate er in de tweede oproep voor innovatieve starterssteun van VLAIO in geslaagd om geselecteerd te worden als één van de 69 innovatieve starters. In totaal werden er acht Limburgse start-ups gesteund.
Ook Comate helpt start-ups bij de zoektocht naar funding. Vorig jaar werd het investeringsfonds Comate Ventures opgericht: een joint venture tussen Comate en Alychlo, de familiale investeringsholding van Marc Coucke. Comate Ventures voorziet pre-seed funding voor start-ups die innovatieve hardwareproducten ontwikkelen.
Oprichter Wouter Foulon licht toe: "Binnen Comate hebben we ervaring op vlak van het ontwikkelen van hardware. Vanuit onze expertise weten we dat dat een moeilijk, risicovol en duur proces kan zijn. Met Comate Ventures willen we een springplank zijn voor start-ups die hardware ontwikkelen. Op die manier kunnen zij op een zo efficiënt mogelijke manier tot het juiste eindproduct komen."
Absolem: de kracht van meten én weten
Ingenieursbureau Absolem verbindt expertise, kennis en technologie om zo verschillende uitdagingen aan te pakken. De expertise en kennis zit bij meer dan zestig ingenieurs uit verschillende domeinen, de technologie is gecentraliseerd in een custom engineering center met laserlabo in Turnhout. 'Van A tot Z' klinkt bij Absolem als 'van C tot P': van concept tot productie bieden ze een brede waaier aan diensten en oplossingen.
"Onze sterkte zit in het feit dat we veel ervaring hebben met procesdenken. We slagen erin om dat te combineren met onze expertise in machinebouw en industriële digitalisatie. Met de mogelijkheden van ons eigen engineering center en de meetapparatuur van verlichtingsproducent Signify, die ook op onze site gehuisvest zijn, kunnen we een stuk sneller schakelen dan andere bedrijven."
De meetapparatuur van Absolem maakt snel duidelijk waar mogelijke pijnpunten of bottlenecks liggen. Het engineering center bedenkt op basis van die input oplossingen, alternatieven en verbeteringen.

In een volgende stap kunnen die in sneltempo in het labo getest worden. Door snel veel designs te maken en testen, slaagt Absolem erin om efficiënt en pragmatisch tot een betere versie te komen. Met de klant wordt telkens besproken waar hun verwachtingen liggen: wanneer is iets goed genoeg?
"Een bijkomend voordeel op dat vlak is dat we altijd mee nadenken over hoe we het productieproces zo eenvoudig mogelijk kunnen houden", aldus Jurgen Adriaensen. "Het mag nooit de bedoeling zijn dat je een operator dagenlang moet opleiden om een proces te kunnen voltooien. We kijken dus niet alleen naar de technologie, maar ook naar het totaalplaatje. Als we in de concept- of designfase elementen kunnen aankaarten die een investering vergen, maar op termijn een grote kostenbesparing zijn of voor meer marge zorgen, nemen we dat altijd mee. We focussen niet enkel op technologie: we denken altijd mee met de business van de klant."
Het ecosysteem van Thor Park
Absolem kwam via Thor Park in contact met Innervate. "Door bedrijven samen te brengen, ontstaat er een bepaalde synergie", vertelt Adriaensen. "Je leert elkaar kennen en leert van elkaar. Je creëert connecties en gaat samen de uitdaging aan. Of je klopt bij elkaar aan voor hulp. Met de groeiende nood aan smart manufacturing is een hub als Thor Park onmisbaar. Weten dat alle expertise op dat vlak op één centrale plek verzameld is, helpt maakbedrijven om hun eerste stappen te zetten naar een beloftevolle toekomst."

FacThory
Drie vragen over FacThory: het volgende hoofdstuk
FacThory is een multifunctionele locatie ter ondersteuning van bedrijven uit de maakindustrie. Het gebouw huisvest productie-units, labo- en testruimtes en verschillende kantoren waar bedrijven een ruimte kunnen huren en beroep kunnen doen op pilot-and-contract-manufacturing diensten. De toekomstige toevoeging aan Thor Park zal als middel dienen om een volledig ecosysteem te bouwen rond de slimme maakindustrie.
FacThory zal goed zijn voor zo'n 30.000 m² werkbare oppervlakte en wordt gebouwd in vier fasen. Fase één wordt afgerond in december 2023 en zal bestaan uit 3.500 m² productievloer, 1.000 m² labo- en testruimte en 3.500 m² kantoren.
Wie kan terecht bij FacThory?

FacThory is enerzijds een plaats voor kleine bedrijven die nog geen vaste werkplek hebben of die op zoek zijn naar een nieuwe locatie. Anderzijds kunnen ook grote bedrijven - uit binnen- en buitenland - FacThory gebruiken als externe R&D-site. Op die manier kunnen ze apart van hun hoofdkantoor aan nieuwe producten of processen werken, zonder daarbij afgeleid te worden door dagelijkse operationele taken.
Hoe is FacThory opgebouwd?
De productievloer van FacThory bevindt zich op de benedenverdieping. Daar kunnen bedrijven als Innervate hun eindproducten maken of assembleren of hun proces verbeteren door bijvoorbeeld een pilootlijn te testen.
Op de eerste verdieping bevinden zich de labo- en testruimtes. Die zijn enerzijds bestemd voor bedrijven die ondersteunende diensten aanbieden in het maakproces, zoals integratoren, robotisering en – in het geval van Absolem – automatisatie. Anderzijds kunnen bedrijven ook zelf of met een partner als Comate werken aan een prototype.
Op de tweede verdieping vind je de kantoorruimte voor de bedrijven die op de lager gelegen verdiepingen aan het werk zijn. Ook bedrijven die actief zijn in de maakindustrie, maar die geen fysiek product hebben, kunnen er terecht. Denk daarbij bijvoorbeeld aan organisaties die XR-toepassingen ontwikkelen of bedrijven die bezig zijn met datacaptatie, -visualisatie, -analyse en artificial intelligence.
Waarom kiezen voor FacThory?
Door verschillende soorten bedrijven – letterlijk – onder één dak samen te brengen, kunnen ze elkaars kennis en expertise gebruiken om globaal te verbeteren. Zo kan bedrijf A XR-technologie ontwikkelen in de kantoren en deze concretiseren met behulp van de machines en procesexperten van bedrijf B. Bedrijf B kan op zijn beurt geholpen worden met de kennis en technologie die ontwikkeld wordt door bedrijf A.
De kennis en technologie uit de kantoren kan dus rechtstreeks toegepast worden in de praktijk. Het feit dat er een productievloer aanwezig is, maakt het makkelijker om ontwikkelingen te testen, analyseren en optimaliseren.
Pilot-and-contract-manufacturing
Het ecosysteem van Thor Park wordt vervolledigd door een projectmanager industrie 4.0 en de verschillende machines die er ter beschikking staan. De doelstelling is en blijft om CAPEX-investeringen voor het ecosysteem zo laag mogelijk te houden door als Thor Park zelf te investeren. Er wordt geïnvesteerd in niet-conventionele machines die door hun innovatieve karakter nieuwe productiemethodes triggeren. Denk daarbij bijvoorbeeld aan een hybride 3D-printer met in-line X-ray inspectie of technologie om het concept digital twins voor zowel product, proces als een combinatie van beide te faciliteren. Ook aan 'operator friendly' toepassingen wordt gedacht, zoals cobots om testing en integratie in het productieproces te faciliteren.
EFRO-project
FacThory wordt gerealiseerd met de steun van het Europees Fonds voor Regionale ontwikkelingen (EFRO – project 1383) en het Agentschap Innoveren en Ondernemen (Hermes Fonds). De financiële steun bedraagt respectievelijk 5,2 MEUR en 1,0 MEUR.
Contact us
If you've got any questions related to this news, don't hesitate to get in touch!