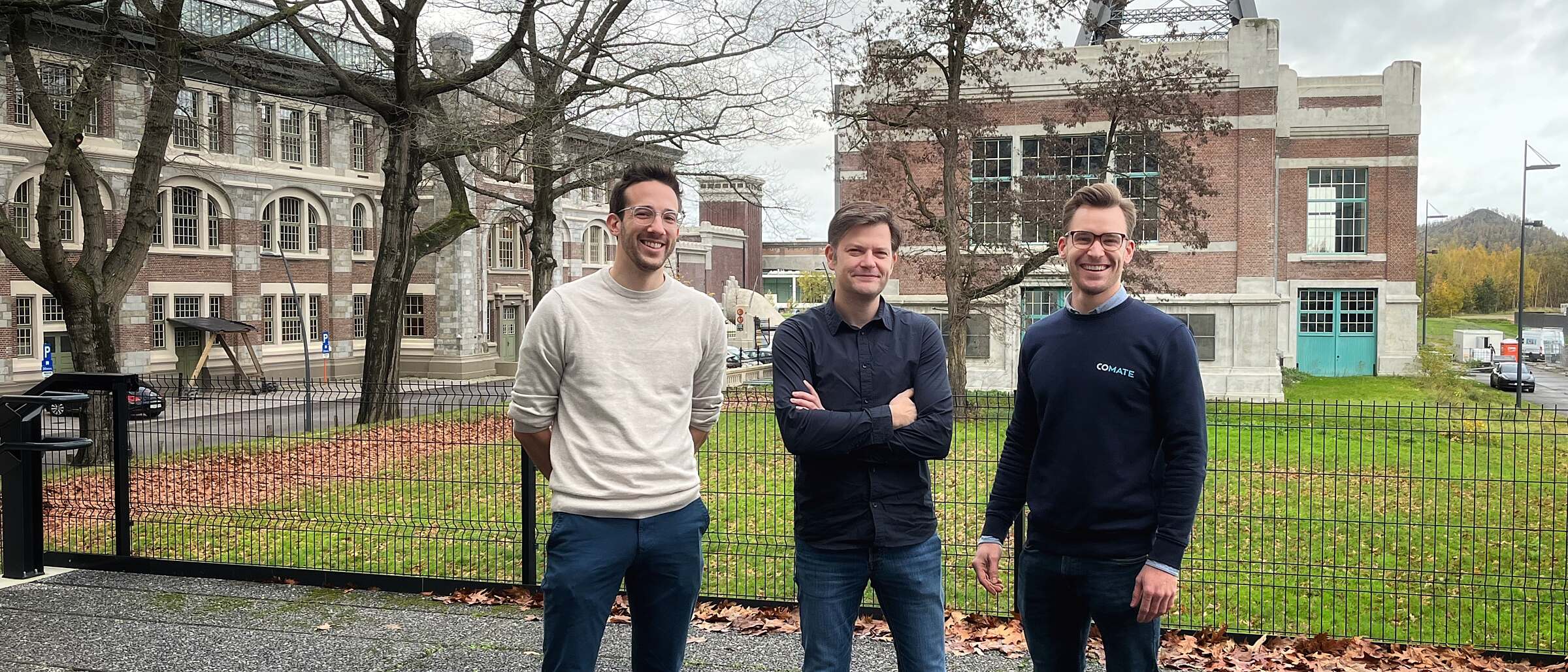 From collaboration to creation: this is how Thor Park facilitates innovation
9 January 2023
[NL versie onderaan]
One plus one makes three – but only on the condition that a collaboration runs smoothly. With that in mind, Genk-based business, technology and science park Thor Park has established itself as the ideal breeding ground for innovation. That sharing knowledge, expertise and facilities works is proven by start-up Innervate, engineering and design firm Comate and engineering company Absolem.

At Thor Park, these companies looked at the potential of the stretchable electronics of start-up Innervate. This collaboration is a great example of how Thor Park's ecosystem works - and how the future hub FacThory can become an incubator for the creation and valorization of new hardware concepts.

Thor Park: the smart starting point
Thor Park is a business, technology and science park located on the former Waterschei mining site in Genk. It is a hub of innovation where research institutions, start-ups and emerging companies as well as world players in the energy sector, smart manufacturing industry and smart cities come together to transform their ideas into reality.
Thor Park's mission? To support the development and valorization of new products by giving a variety of players access to the knowledge, infrastructure and network they require. The focus here is creating a unique and specialized ecosystem, in which organizations - each in their own way - dedicate their expertise to bridge the gap from an idea to a successful product.
To make this process run as efficiently as possible, all areas of expertise are grouped and divided across several locations within Thor Park. At this moment, EnergyVille, T2 campus, IncubaThor and Thor Central are already available. These locations will soon be joined by FacThory: a space where new ecosystems of smart manufacturing companies can be established.
FacThory's added value lies in the additional services it will provide, such as an industry 4.0 project manager and various pilot and contract manufacturing services. The central focus will be on specialized advice and targeted investments to keep the CAPEX as low as possible. The completion of FacThory (see sidebar) is expected by the end of 2023.
Innervate: the promising start-up
The Limburg-based start-up Innervate aims to be an engineering partner for robot manufacturers who want to incorporate electronics into moving parts. Founder Steven Nagels completed his doctorate at the Institute for Materials Research IMO-IMOMEC (UHasselt/imec). There, he worked on electronics that are made with liquid metals that stretch like an elastic. Nagels envisions a future in which electronics are as closely intertwined with the moving parts of a robot as nerves are with the muscles and joints of the human body.

Founder Steven Nagels elaborates, "Our stretchable circuits are very interesting in applications where there is a need for both electronic (sensor) functionality as well as a high degree of agility. Initially, we want to explore that combination in markets like robotics and automation. We start with simple applications, and from there we develop our expertise further until we can contribute to exoskeletons or even the next generation of active prostheses. At every step - from concept to integration - we are actively thinking along."

The first contact with Thor Park came after a search for a location to establish Innervate, develop its prototype and eventually start up production. Thor Park quickly emerged as the ideal breeding ground for start-ups like Innervate. Both the already present ecosystem with companies like Comate, Absolem, Yitch, Cobotracks and Merino Consulting Services and the planned addition of FacThory proved to be real assets.
"The practical setting and shared devices are an excellent starting point," Nagels says. "But for us, the real added value of Thor Park is the ecosystem of like-minded entrepreneurs that solve similar and manufacturing industry-specific issues. The questions we ask ourselves are unlike those of the average IT start-up." In addition, the project manager 4.0 present is the ideal sparring partner that gives vital advice on setting up an efficient production environment.
"In start-up companies - and also in more mature companies - product knowledge is often already at hand," says Erwin Junius, Project Manager Industry 4.0 at Thor Park. "But the specific knowledge about the processes and requirements in a production environment is not there yet. That still needs to be established, despite the fact that this is an important aspect that should actually be included in the development from the first design."
An exercise that is often started with is value stream mapping. "We analyze the sub-processes and actively look at how we can improve them," continues Junius. "Then follows a risk assessment, in which we look at possible variants of the product and examine the impact of these products and processes in terms of environment and safety. As to be expected, this happens under a strict non-disclosure agreement."
During these exercises, it became increasingly clear that Innervate would benefit from involving other companies from the Thor Park ecosystem in their process. Two partners were found: Comate - an ideal ally in product design and development - and Absolem, who excel in process knowledge. By consulting with both parties, Innervate gained insight into the challenges of a manufacturing environment and was able to adjust the positioning.
"Thor Park's role is, on the one hand, to meet with companies and understand their challenges and, on the other hand, to link the strengths and capabilities of different players," explains Gabriële Buglione, Business Development Manager at Thor Park. "At first glance, there's no direct benefit for us in that area. But of course, we're only successful if our ecosystem is. As a result, we benefit indirectly from these collaborations."
Comate: the partner in developing a market-ready product
As an engineering partner, Leuven-based engineering and design firm Comate supports a variety of companies - from start-ups to multinationals - in the development of innovative hardware products. With a team of 80 engineers and product developers, they bring insight into the market and the end users. Using prototypes, Comate translates requirements and specifications into technological solutions. These are finished with a tailored design and transformed into market-ready products. In the final step, Comate assists in setting up the production and supply chain.
Managing Director Sander Van den dries explains the match with Thor Park: "Thor Park is a place where a lot happens in terms of research, development and - in the future - manufacturing. These themes are strongly linked to the daily operations of Comate. With the development of FacThory on the horizon, we are also present in IncubaThor, the professional workspace for start-ups. This allows us to monitor and support the entire ecosystem from up close."

That's how Comate came into contact with Innervate. What started as an introductory meeting, quickly resulted in a thorough review of the steps the start-up would need to take and advice on the budgets and timelines that come with them. The match between hardware entrepreneur Steven's questions and ambitions and Comate's expertise quickly became clear.
"It is these initial non-committal conversations - brought about by our presence in an ecosystem like Thor Park - that often result in interesting collaborations," says Business Developer Alexander Blockhuys. "When independent parties see a need at one company and a solution at another, there is potential for a valuable contact. Even if there's no direct business that follows."
In recent years, Comate has supported many university projects and spin-offs. As a result, they could move on to market-ready products and machines after years of research and prototypes within the university environment. An example is Diepenbeek-based FOx Biosystems: a spin-off of KU Leuven that, with the help of capital support from LRM and others, has been exploring the possibilities of automated blood testing. Another KU Leuven spin-off that Comate currently works with is Solhyd, a company that aims to develop an innovative hydrogen panel.
Comprehensive network support
Besides technical support, Thor Park looks at which partners from the broader network can add value. These may be financial partners - such as LRM and Industrya - or public partners - such as POM Limburg and the city of Genk – or partners of Limburg Startup - such as SD Worx, Gevers, Van Havermaet, KBC Start-it and VOKA.
We like to present ourselves as a kind of Google for entrepreneurs," explains Gabriële Buglione of Thor Park. "They can come to us with virtually any question. We happily connect them with one of our partners, who in turn provide clear answers to the entrepreneur's questions. For Innervate, we involved LRM. Together, they checked if they could participate in a possible capital round. On top of that, we are in direct contact with VLAIO and help companies prepare their ISS, the support for innovative starters."
This is how Innervate managed to be selected as one of 69 innovative start-ups in VLAIO's second call for support for innovative starters. A total of eight Limburg-based start-ups were supported.
Comate also helps start-ups in their search for funding. Last year, the investment fund Comate Ventures was founded: a joint venture between Comate and Alychlo, Marc Coucke's family investment holding. Comate Ventures provides pre-seed funding for start-ups that develop innovative hardware products.
Founder Wouter Foulon explains: "At Comate, we have experience with hardware development. From our expertise, we know that this can be a difficult, risky and expensive process. With Comate Ventures, we want to be a launching path for start-ups that develop hardware. That way they can work towards developing the right end product as efficiently as possible."
Absolem: the tandem of measuring and knowing
Engineering company Absolem combines expertise, knowledge and technology to tackle various challenges. Their expertise and knowledge are vested in more than sixty engineers from different fields, the technology is centralized in a custom engineering center that includes a laser lab in Turnhout. At Absolem, 'from A to Z' sounds like 'from C to P': from concept to production, they offer a wide range of services and solutions.
"Innervate's challenge is one that we recognize from many of our customers. They have designed a demonstrator, prototype or a certain production process based on a concept. This is something they want to optimize further before it goes into actual production," says Jurgen Adriaensen, Process Architect at Absolem.
"Our strength lies in the fact that we have a lot of experience with process thinking. We combine this with our expertise in mechanical engineering and industrial digitalization. With the capabilities of our engineering center and the measurement equipment of lighting manufacturer Signify, who are also based on-site, we move a lot faster than other companies."

Absolem's measuring equipment quickly exposes potential pain points and bottlenecks. Based on that input, the engineering center devises solutions, alternatives and improvements. In a subsequent step, these can be tested in the lab. By making and testing various designs, Absolem succeeds in arriving at an improved version efficiently and pragmatically. The customer's expectations are always discussed: when is something good enough?
"An additional advantage in that area is that we always think about how we can keep a production process as simple as possible," says Jurgen Adriaensen. "It can never be the intention that an operator needs days of training to complete a process. So we don't just look at the technology, but at the overall picture. If we can bring up elements in the concept or design phase that require an investment, but that save costs or provide more margin in the long run, we always include them. We don't just focus on technology: we always think along with our client's business."
Thor Park's ecosystem
Absolem was introduced to Innervate through Thor Park. "Bringing companies together creates a certain synergy," says Adriaensen. "You get to know each other and learn from one another. You create connections and take on challenges together. Or you simply knock on each other's door for help. With the growing need for smart manufacturing, a hub like Thor Park is indispensable. Knowing that all the expertise in the field is gathered in one central location helps manufacturing companies to take their first steps toward a very promising future."

FacThory
Three questions about FacThory: the next chapter
FacThory is a multi-purpose location that supports companies in the manufacturing industry. The building accommodates different manufacturing units, labs and test spaces and several offices where companies can rent spaces and use pilot and contract manufacturing services. This future addition to Thor Park will serve as a means to build an entire ecosystem around smart manufacturing.
FacThory will be good for about 30.000 m² of workable area and is built in four phases. Phase one will be completed in December 2023 and will consist of 3,500 square meters of production floor, 1,000 square meters of lab and testing space and 3,500 square meters of office space.